Girl Interrupted (1999)
A troubled Susanna finds herself trying to balance her life outside and inside a mental institution.
Hidden Figures (2016)
This film is about an awe inspiring african american female mathematician who worked at NASA during the Space Race.
Mermaids (1990)
Charlotte badly wants her unstable mother to settle down, but as tensions rise, and Charlotte's budding sexuality runs wild, the family must learn to cope.
Crash (2004)
A passion piece on racial and social relations in Los Angeles.
Eden (2012)
Abducted and thrown into a sex ring, Eden fights for her life.

August: Osage County (2013)
A family of strong willed adult women are summoned back to their home when their father goes missing.
Martha Marcy May Marlene (2011)
After several years living in a cult, Martha escapes in hopes to find peace at her sisters house.
Room (2015)
Based on the book by Canadian author Emma Donoghue, 'Room' tells the story of a mother and her five year old son, held in captivity.
Confirmation (2016)
Based on the real life story of Anita Hill, a woman who brought Clarence Thomas (an American Supreme Court Judge) to trial for sexual harassment, Confirmation stars Kerry Washington.
Virgin Suicides (1999)
Forbidden to leave their house, five isolated and depressed sisters make a tragic decision.


Kill Bill Vol. 1 (2003)
A bride wakes from a four year coma to discover the child she was carrying is gone. She sets out for revenge and to learn more about the baby taken from her.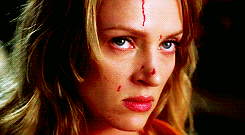 The Other Woman (2009)
No, not the one with Kate Upton and Cameron Diaz. This 2004 film stars Natalie Portman as woman struggling with her daughters death, while also trying to maintain a relationship with her husband and stepson.
Diana (2013)
Starring Naomi Watts, Oliver Hirschbiegel's Diana is brutally honest, dark, moving, and heart wrenching.
Black Swan (2010)
This cinematically stunning film takes viewers on a roller coaster through themes of obsessive compulsion, perfectionism, self harm, and mental illness.
Short Term 12 (2013)
At a foster care facility for troubled teens, Grace tries to balance her heart wrentching work as a councillor with her own emotions.
Now and Then (1995)
This coming of age film bounces between youth and adulthood, contrasting innocence and the realities of growing up.
Eat Pray Love (2010)
Newly divorced, Liz Gilbert sets out on a mission to travel the world and meet herself again.


My Week With Marilyn (2011)
With Michelle Williams as Marilyn, this film explores the dark truths behind the icon's fame and battle with mental illness.
A League of Their Own (1992)
This 1992 film flashes back to 1943 as World War II threatens to shut down Major League Baseball, leaving an opening for women to step up to the plate.
Blue Is The Warmest Color (2013)
Within this complex, honest, and beautiful French film, a young woman discovers her sexuality, herself, and how it feels to fall in love with a distracted female artist.
Eternal Sunshine of The Spotless Mind (2004)
After a painful breakup, Clementine chooses to forget she ever fell in love with Joel. Joel chooses to do the same.
Cake (2014)
Claire, who battles severe chronic pain, has visions of a woman in her support group who committed suicide. In an effort to find peace, Claire attempts to find the deceased woman's husband.
Blue Jasmine (2013)
After her marriage ends, a very fragile socialite named Jasmine attempts to regain the lifestyle she once lived.
Sisterhood of The Travelling Pants (2005)
An honest depiction of friendship, growing up, and finding yourself, both Sisterhood films are worth the watch.
The Danish Girl (2015)
Inspired by the lives of Lili Elbe and Gerda Wegener, 'The Danish Girl' tells the beautiful and tragic story of one of the first men (biologically) to ever receive gender reassignment surgery.
500 Days of Summer (2009)
A post modern love story that explores the realities of one-sided love and life.
Away We Go (2009)
A couple expecting their first child go on a road trip to find the perfect place to raise their family. Funny, genuine, real, and heartwarming.
Silver Linings Playbook (2012)
After a stint in a mental hospital, Pat befriends a young and unstable widow with a strange request.
Obvious Child (2014)
After learning she's pregnant, an unemployed comic tries to navigate how to tell her fling that she's having an abortion.
Before I Fall (2017)
More than a high school drama, 'Before I Fall' tackles high school bullying, suicide, and learning the importance of living a life with purpose.
The Lovely Bones (2009)
Raped and murdered in her home town, Susie Salmon watches over her crime's case, and her family, from purgatory.
Sabrina (1954)
Starring Audrey Hepburn, Sabrina tells the story of a young woman who leaves home to find herself, only to return years later – right in the middle of a love triangle.
Million Dollar Baby (2004)
A young woman catches two retired boxers off guard when she tells them of her dream to fight.
The Color Purple (1985)
Based in the 1930's, 'The Color Purple' focuses on the lives of African American women and the class structures that work to oppress them.
Remember Me (2010)
Tyler thinks no one can understand him, that is until he meets Ally. But just when his relationship with his father begins to improve, tragedy strikes.
Blue Valentine (2010)
A contemporary couple gets caught in a destructive downward spiral.
The Reader (2008)
A teen boy living in post war Germany begins a passionate affair with an older woman, to whom he reads.
Precious (2009)
An overweight, abused, and illiterate young woman is invited to an alternative school where she may try to better her life.
Very Good Girls (2013)
Starring Dakota Fanning and Elizabeth Olsen, this film explores rivalry, friendship, and wanting to lose your virginity.
The Kids Are All Right (2010)
A lesbian couple married for 20 years being to struggle as the biological father of their two children enters the picture.
Beaches (1988)
Childhood best friends have their ups and downs but reconnect when it matters most.
The Big Chill (1983)
A once close knit group of friends reconnects when one of them commits suicide.
The Help (2011)
In Southern Mississippi, Skeeter, a white girl who dreams of being a writer, begins to interview the african american housemaids who live and work for the rich women in her town.
Chicago (2002)
When aspiring star Roxie shoots the man she was cheating on her husband with, she gets set to jail with nightclub sensation Velma Kelly.
When Harry Met Sally (1989)
Can men and women ever just be friends?
Heathers (1988)
Dark and twisted, this isn't your average high school drama.
Gone Girl (2014)
Deconstructing the myth of the 'cool girl', Gone Girl tackles manipulation, mystery, and revenge.
The Devil Wears Prada (2006)
A simple and sensible woman lands a job at high fashion magazine, Runway. There she becomes the assistant to the most feared woman in the business.
Legally Blonde (2001)
Defying all odds, a bubbly Elle Woods gets into Harward Law School, at first for a man, and then for herself.
Breakfast at Tiffany's (1961)
An escort with expensive taste, Holly Golightly tries to deny her love for a writer, believing she's meant to marry a rich man instead.
Thelma & Louise (1991)
Thelma and Louise are inseparable, even in murder.
V for Vendetta (2005)
This dystopian thriller inspires revolution, justice, and hope for those oppressed by a neo-fascist regime.
Vicky Cristina Barcelona (2008)
Americans Vicky and Cristina meet a seductive painter in Spain who invites them for a weekend of food, wine, and sex. Things get complicated when his ex wife arrives.
Pretty Woman (1990)
A modern twist on Cinderella, a prostitute and a wealthy business man fall in love.
Coco Before Chanel (2009)
The beautifully tragic and inspiring story of Coco Chanel.
Erin Brockovich (2000)
An American biography, this film tells the real life story of a single mother who fought against a powerful energy company that was contaminating drinking water.
Kill Bill Vol. 2 (2004)
You can't watch Vol.1 without immediately wanting to watch Vol.2.
Monster (2003)
Charlize Theron as Aileen Wuornos will give you chills. This film showcases mental illness, and abuse, and forces you to look at murder from a whole new perspective.
Mona Lisa Smile (2003)
Katherine Watson takes a teaching position at a highly conservative college to try and influence the next generation of women.
Little Miss Sunshine (2006)
The Hoover family takes a dysfunctional road trip to their quirky daughter's beauty pageant.
Cruel Intentions (1999)
Two twisted step siblings plan to deflower the headmasters daughter. Love and jealousy makes things complicated.

Hardy Candy (2005)
A teenage girl raids and tortures a man in his house, suspecting he's a pedophile.